Webinar: Ask a VC
October 10 @ 12:00 pm

-

1:00 pm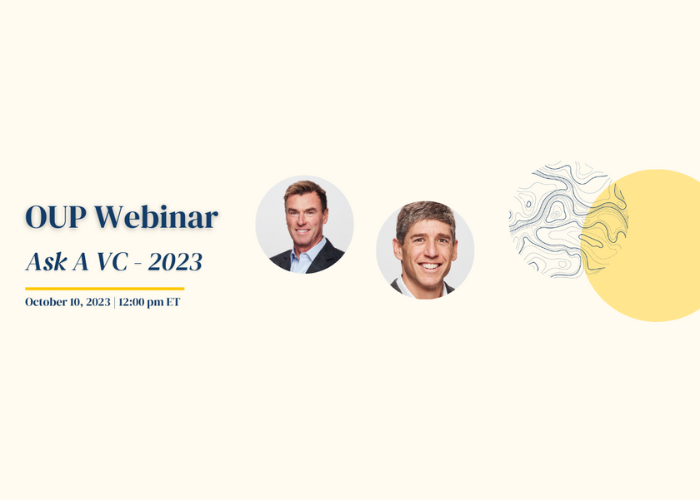 Do you have a burning question on venture capital you need answered? Join OUP for our fourth annual 'Ask a VC' webinar, a session where our partner TTOs can ask Managing Partners Marc Singer and Bill Harrington anything and everything as it pertains to venture capital operations, decision-making, and the current investing environment.
Since the purpose of this webinar is to answer your questions on venture capital and startups, submit your questions early by emailing them to kmangels@oup.vc. Query areas could include:
The past year in startup funding – what happened? How difficult is it really to raise a round right now? And how have deal terms changed to reflect this different environment?
Considering the fundraising environment, recommendations on how to stand out amongst the crowd
The industry areas that are particularly interesting to VCs right now
The best ways to get introductions to VCs
Stages of companies more attractive to VCs in 2023
The converse – what areas are having a difficult time fundraising right now?
Downsized funds – what does that mean for the startup world?
Recommendations for first-time academic founders
Marc and Bill will also take questions from the audience the day of the webinar but sending your questions in advance will put them at the top of the queue.
Related Events