How do we increase investment into women entrepreneurs, and how can we help promote women into leadership roles?
The Center for Technology Licensing (CTL) recently explored answering those questions in a webinar with four distinguished Cornell alumni: Momo Bi '15, Carolina Huaranca Mendoza, Priya Rajan '16, and Beckie Robertson '82.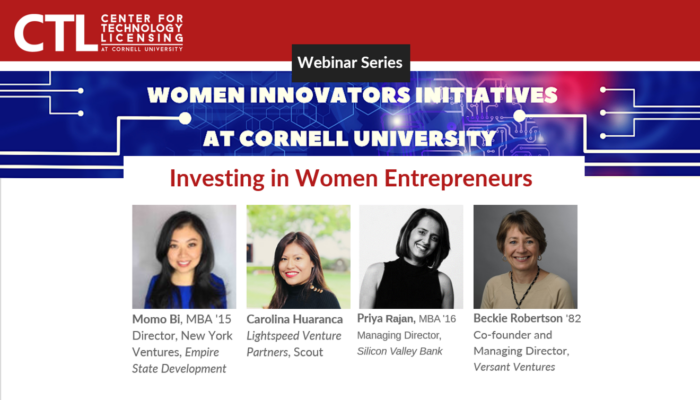 Momo Bi '15 is an investor at New York Ventures, New York state's capital fund. Bi first started her career in B2B software sales but wanted to better understand business in general. Bi entered the Cornell Johnson Business School and graduated in 2015. After graduation, Bi joined JP Morgan for a year but left to work directly with business founders. From there, New York Ventures recruited Bi into her current position.
Carolina Huaranca Mendoza is currently a scout for Light Speed Venture Partners. Mendoza attributes her non-linear career path to her professor from the ILR School and following a thread of access that allowed her to work in startups and various business sectors. Through her network and strategic career choices, Mendoza landed her current position as an investor.
Priya Rajan '16 is the Managing Director at Silicon Valley Bank. Before her current position, Rajan was following a traditional career path in finance as an accountant. While attending the Cornell Johnson Business School, Rajan realized she had access to great businesses and investors that she felt she wasn't utilizing. Rajan approached her CFO at Silicon Valley Bank and explained she wanted to work in venture investment. Her executives supported her new career direction, and Rajan has been in her current role for over six years.
Beckie Robertson '82 is a chemical engineer who moved to California for her first job in biomedical engineering. She landed a position at a startup called Lifescan, which became a multibillion-dollar division of Johnson & Johnson. From that experience, Beckie developed her interest in entrepreneurship. Beckie credits her trusted network of mentors she utilized to launch her startups and finally enter the venture capital industry. Robertson is also a Trustee at Cornell University.
The webinar entitled "Investing in Women Entrepreneurs" held on 09/30/2020 was the second in the Women Innovators Initiative series devoted to engaging, empowering, and growing women faculty, staff, and graduate students towards technology innovation and entrepreneurial leadership.
In the webinar, Rajan presented a Silicon Valley Bank study that found that only about 14% of startups in the US have female CEOs. Only about 30% of startups have programs geared toward developing women into leadership roles. Rajan noted that the numbers have been increasing year over year, but the desire for a multifold increase in those numbers resonated with the panelists and audience alike.
During the panel, Robertson, Bi, Mendoza, and Rajan all shared their views on the ideal entrepreneurial traits, the importance of networking, and finally, dealing with gender bias in the workspace.
Robertson states the trait that is most important in being an entrepreneur is to be a "…completely ruthless truth seeker." Robertson explains that when you start a company, "…if you aren't always probing for the truth… you're going to miss the mistakes that you're making."
Listen to Beckie Robertson talk about being a "Being a Completely Ruthless Truth Seeker."
On networking, Bi advises if you have an entrepreneurial idea, "Just try it…talk to as many people as you can." Mendoza followed with, "…you need to put yourself out there… (you need) to share your magnificence with people." Robertson finishes up the thought with "It's a numbers game…do not be discouraged if the first ten people do not return you call."
Watch all the panelists talk about networking and advice on being entrepreneurial.
An audience member asked the panelists for advice on dealing with gender bias in the workspace. Rajan and Bi gave helpful strategies and tactics derived from their real-world experience. Robertson advised, "Find your own voice…develop confidence in your own voice." Robertson shared from her board room experience that her most effective voice was "playing the role of helping people hear each other."
Watch the panelists discuss dealing with gender bias and finding your voice.
The full webinar can be seen on CTL's YouTube channel here: https://www.youtube.com/watch?v=s3wL9Zd1VRY
To learn more about CTL's Women Innovators Initiative and more information on the next WI2 webinar please go here: