IP Series #4: From Invention Disclosures to Issued Patents: An Inventor Perspective
April 20 @ 12:00 pm

-

1:00 pm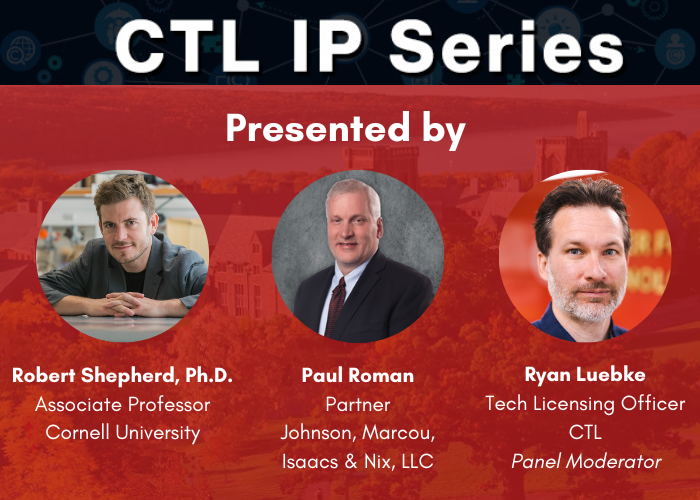 The process of obtaining a patent, starting from the disclosure stage and continuing until issuance, can be a challenging, ambiguous, and time-intensive experience for researchers. This panel session aims to provide clarity and guidance by exploring the process from the perspective of an active inventor, Robert F. Shepherd, Associate Professor at Cornell University.
As the leader of the Organic Robots Laboratory with over 30 invention disclosures, 70+ patent applications, and granted patents, Shepherd has been recognized as an academic inventor and rising leader in his field.
He will share his experiences working with the Center for Technology Licensing and IP Counsels to protect his innovations and will reflect on research and commercialization impacts.
Paul Roman, Partner at Johnson, Marcou, Isaacs & Nix, LLC, will join him to provide a couple of examples from Shepherd's IP portfolio and share best practices for successful patent applications.
If you're a researcher looking to understand better the patenting process and your role in successful outcomes, don't miss this fourth installment of CTL's IP Series.
Hosted by Ryan Luebke, Technology Licensing and Business Development Officer at CTL.